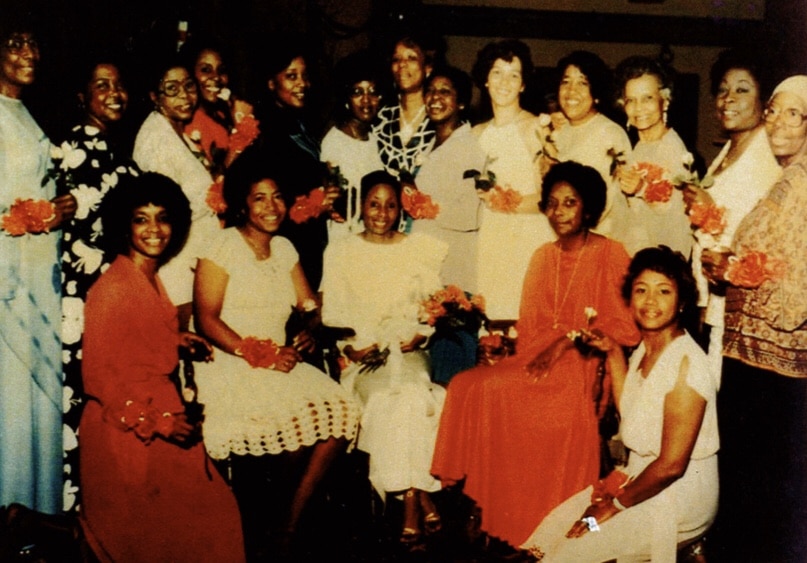 On Saturday, March 22, 1980, at 12:30 p.m., six dedicated and outstanding members of Miami Alumnae Chapter, Delta Sigma Theta Sorority, Inc. met at the home of Soror Evelyn Wynn to formulate ideas and reasons for establishing a second chapter in Dade County. The "Council" consisting of six members, was called together by Soror Maud P. Newbold who applied for an application for a new chapter based on the interest and concern of many Sorors who, for many years, expressed the need to extend public service projects throughout the county without restrictions. The council members were Sorors: Maud P. Newbold, (chairperson); Margaret P. Baulkman, Beverly Nixon, Dorothy J. Saunders, Dorothy S. Sawyer, and Evelyn H. Wynn.
During the course of the meeting, the council members carefully selected Sorors whom they felt exemplified high ideals and commitment to the Sorority, in addition to their "sterling" records of public service, talents, and their outstanding leadership experiences. Joining the council to fulfill all preliminary requirements for a charter were Sorors: Zandra R. Albury, Cleomie W. Bloomfield, Bobbie D. Bowen, Pernella C. Burke, Thelma B. Davis, Martha C. Day, Darlene Gay, Ruth K. Jones, Elmer H. Kilpatrick, Juanita A. Lane, Sheba M. Martin and Marcia J. Saunders.
Following a sequence of events, Soror Kathleen Wright, Regional Director, notified Sorors Maud P. Newbold and Nettie Dove (president of Miami Alumnae) for the purpose of selecting a mutually satisfactory date for the transitional workshop for both chapters and also the chartering. On January 10, 1981, at 12:00 noon, the Dade County Alumnae Chapter was charted at Belafonte-Talcolcy center, with Kathleen Wright officiating.
It was unanimously voted that Maud P. Newbold serve as first President of the new chapter, with all of the Charter Members servings as "first" officers.
Charter members: Margaret P. Baulkman, Cleomie W. Bloomfield *, Bobbie D. Bowen*, Pernella C. Burke*, Thelma B. Davis*, Martha C. Day, Darlene Gay, Ruth K. Jones*, Elmer H. Kilpatrick *, Juanita A. Lane, Sheba M. Martin*, Maud P. Newbold, Beverly E. Nixon, Zandra Rucker, Dorothy J. Saunders, Marcia J. Saunders, Dorothy S. Sawyer * and Evelyn H. Wynn
Names listed in alphabetical order *Deceased
In 1981 the Dade County Alumnae Chapter of Delta Sigma Theta Sorority, Inc. was founded.
Chapter Name When Chartered:
Dade County Alumnae Chapter
Date Chartered: January 10, 1981
Miami, Florida (Dade-County)
Installing Officers (National/Regional):
Soror Kathleen Cooper Wright, Southern Regional Director