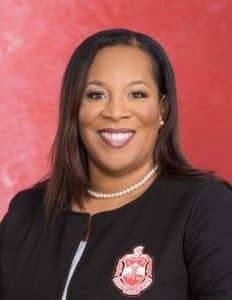 Greetings!
Thank you for visiting the virtual home of the Dade County Alumnae Chapter (DCAC) of Delta Sigma Theta Sorority, Inc. We invite you to acquaint yourself with our chapter by perusing the articles, photos, and blogs concerning our programs, projects, and activities.
It is my pleasure and honor to serve as the 15th president of our beloved DCAC. Our chapter is comprised of over 230 dynamic faith-filled women dedicated to improving the lives of the residents of Miami-Dade County.
DCAC was chartered by 18 visionary members on January 10, 1981. Since its chartering, DCAC has made great strides in our community and abroad to build upon the legacy and mission of the Founders of Delta Sigma Theta Sorority, Inc. by developing and implementing programs aligned with the organization's Five Point Programmatic Thrust. Through the years, DCAC has established a variety of projects and programs. Such programs have included:
Apple-P – addressing teenage pregnancy and prevention,
Project Love – working with and nurturing senior citizens,
Project W.I.T. – assisting women transitioning back into the community,
Delta GEMS and Academy – working and mentoring young girls and teenagers,
First Time Home Buyers Forum – educating potential first-time home owners on the home buying process,
Alzheimer's Symposium – addressing this disease and its effects on the individual and their family,
Project to address Human Trafficking,
Donating school supplies and toys to Liberty Square Head Start,
Participating in voter registration drives,
Co-sponsoring judicial forums,
Serving as a Bronze sponsor for the Susan G. Komen Race for the Cure, and
Providing scholarships to deserving young ladies graduating from high school.
My commitment as a president is to further DCAC's growth and outreach in our community with the help of each DCAC chapter member and you.
If you are a member of Delta Sigma Theta Sorority, Inc. without a home chapter, we invite you to visit and join DCAC, home of the chapter with a Big Heart!
Enjoy exploring our virtual home and grasping our 40 year history and continued efforts to provide efficient programming as we excel and empower our community through sisterhood, scholarship and service.
Toni Gilliam-Harrison, Esq.
President
Dade County Alumnae Chapter
Delta Sigma Theta Sorority, Inc.