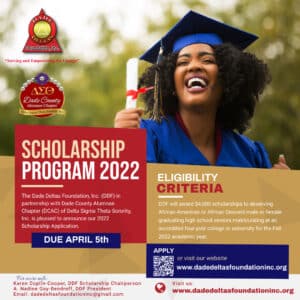 The Dade Deltas Foundation, Inc. (DDF) is pleased to announce its 2022 Scholarship Application. DDF will award $4,000 in scholarships to deserving African-American or African Descent male or female graduating seniors from a Miami-Dade High School matriculating at an accredited four-year college or university for the Fall 2022 academic year.
Applications are due April 5, 2022.
The online application can be found HERE.